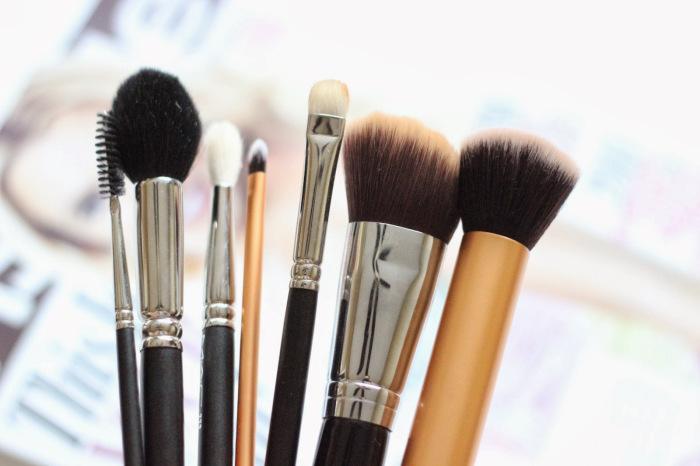 Brushes in makeup are like brushes we use to paint a canvas. The application of makeup is an art and with the aid of fine brushes, you can create a masterpiece. It is good that you invest in good quality makeup brushes if you are in the habit of regularly applying makeup.
But the question I'm sure that is coming to your mind right this minute is, 'which brushes do I buy?' With a zillion brushes available in the market this can be a tough choice.
Here is a list of the top six brushes that you can't do without in the application of makeup:
1.Basic eye shadow brush
To pack that eye color on the lid one must have an eye shadow brush. This brush should have curved or rounded bristles so that you can apply it in the hard to reach area of the lid. You should sweep the eye lids from the inner corner to the outer corner starting from the base of the lid.
2.Lip color brush
Most of us are too lazy to apply lipstick using a brush. But let me tell you one thing. Lipstick applied with a brush comes out looking more even as it fills all the creases and also stays on longer. Select a well-rounded brush that has firm or hard bristles that make the application of creamy and glossy lipsticks easier.
3.Blender brush
A blender brush does exactly what its name refers to it, it blends makeup. For example if you want to smoothen the sharp edges of your blush, simply run the brush back and forth across your cheeks. This brush is a must-have for those who love donning the smoky eyes look.
4.Concealer brush
Most of us use our fingers to apply concealer. But once you try applying concealer using a brush you won't go back to your old ways. A concealer brush is tiny that you should simply dab on the areas to be covered and not smeared.
5.Foundation brush
This is a very thick brush so that it can hold the foundation on the sides. Again like with the concealer do no sweep across the face, instead dab on the face repetitively and blend well.
6.Angled brush
An angled brush is a tiny flat brush that comes angled at one corner. It can be used to draw on eyeliner or can even be used to contour your cheeks and give it sharper look.
So if you're headed out to buy some brushes, do not miss to pick up the above mentioned few.
Zubina
Zubina is someone who believes in "women supporting women" and women empowerment is her ultimate motto. She holds a master's degree in public health and has a firm belief that mental health is as important as physical health. She loves playing with words, therefore she started her career as a writer who comes up with blogs that can help other women who are suffering physically and mentally. Ashley loves learning about several different health issues, hence you can find solutions for almost all the problems in her blogs. Have a look at her blogs and you will love them for sure!
Related posts