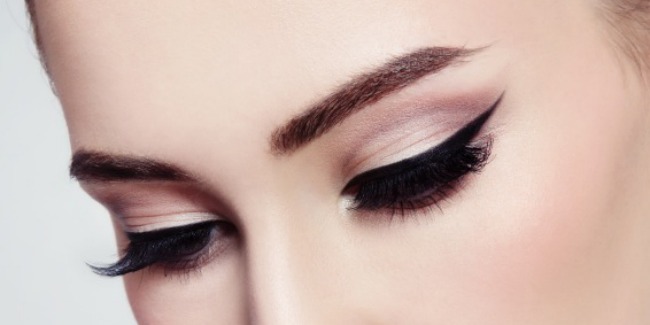 Beauty of eyes
Beauty of women lies in the eyes. To look perfect for any occasion the eye makeup should be done with care. A cat eye gives a very classy and fashionable look. Doing a cat eye makeup is the easiest way to get a fresh look within a few minutes. The cat eye makeup adds intensity to the eyes; it elongates the eye and gives the eye a natural lift. To make a cat eye make up a very steady hand is required
Steps to give a perfect cat eye
To make a perfect cat eye normally an eye liner is used. Felt tip black eyeliner is preferred to any other.Certain setps for
Step 1- A shade of eye shadow is chosen which has a colour that is slightly lighter than the colour of the skin tone of the eye lids. This should be applied to the entire eye lids using a very large brush.
Step 2-Then a colour should be applied that will act as highlighter. To begin it should be started from the portion just below where the inner eye brows start coming outwards. An arch following the brow line should be done with the highlighter.
Step 3-Then a very darker shade like dark brown or black or even bronze should be applied on the outermost crease portion of the eye lids. This should cover the entire outer crease of the eyelids. The crease colour should be properly blended so that the eyes should look natural.
Step 4-Then we have to apply the eyeliner, the colour of the liner is preferred to be black. The eye liner should be started from the outside corner of the eye. A flick should be drawn towards the end of the eye brow. The eye liner need not be perfect. This should be repeated for both the eyes. The main point of concern is to maintain similarity between both the eyes. The eyeliner applied to both the eyes should have the same thickness and the eye shadow uses should have the same density for both the eyes. If in applying the eye liner any difficulty is felt then an easy way is to do about 4 dots very close to the lash line. The direction of the dots should be from the inner corner to the outer corner. Then considering the dots as guide using the liquid eye liner the dots should be connected. This line should stay close to the lash line. While doing the middle of the eyes the liner should be hold in a slight slanting upward position. And while moving towards the corner of the eye it should be extended from the corner. It should give an elongated looks to the eyes.  After creating the outline it is needed to be filled. Then the eye liner is applied to the lower lash line. The thickness or thinness of the liner depends on the persons eyes. It should stay very close to the lash line. Any gap will damage the entire look.
Step 5- Then dark mascara should be applied to get bigger looking lashes.
This make up gives a brilliant look and adds a charm to the beauty.
Related posts