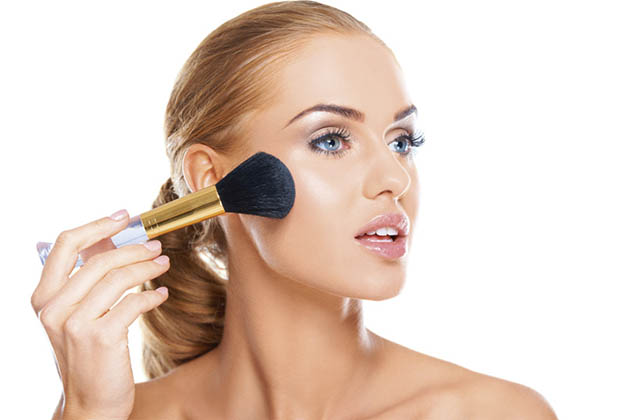 Do you avoid applying powder blush in the fear of appearing like a clown? But in reality, a touch of color on your cheeks can highlight those cheekbones and give an image of being flushed.
Color
The first and foremost important thing to applying powder blush is identifying the color that suits your skin tone.
The best way to figure this out is to notice the color of your cheeks immediately after a workout or when your cheeks are flushed for some reason or the other.
Choose the color that matches your skin tone. Do not select a tone that will make you appear sallow and pale.
Shape of the face
Understand the shape of your face. It is very important to know the shape of your face, as the application of makeup depends on the contours.
Round face – Apply the blush at the ear, skipping the cheeks.
Long face – Apply the blush on the apples of your cheek and move to the ear. This movement will give a wide look to your features.
Square face – Apply blush starting from the ears and slowly moving to the cheeks, to create an angular look.
Heart face – For this shape, blush is best suited on the apple of the cheeks alone.
Actual application
For a natural look, start by applying the blush on the apples of the cheeks, then blend it gently upwards and slowly move across the cheeks.
 To figure out which are the apples of your cheeks, smile, and the rounds that appear when you smile are the apples of your cheeks.
 Do not move too close to the nose and blend it properly. The best way to blend in blush is to use your fingers.
Do not overdo the brushing and the color, else you'll land up looking like a clown.
Additional tips:
Invest in good quality make up brushes.
Use a makeup setting spray after the actual application of the makeup.
Powder blushes last longer than cream based ones.
Do not forget to apply a good foundation or base to the face before applying a blush.
Written by: Rasha Ashraf