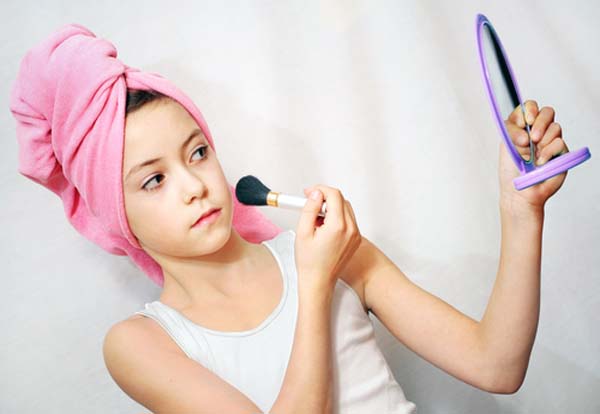 As teenagers we all were excited to use makeup. But then I'm sure most of our moms did not listen too favorably to our ideas on doing up our faces. The key to applying makeup as teenagers is to be minimalistic and allow the natural young glow to surface. Nothing can look more ghastly than a cake made face on a young adult.
Here are some essential makeup products that teenagers can use without looking too grownup:
1.Lip gloss or tinted lip balm
Lip gloss is ideal for teenagers. It instantly brightens the face. It adds just the right amount of tint or color to the face. And the best part is that it looks natural and shiny.
2.Mascara
Lengthen those eyelashes using mascara or give them some definition if they are scarce. Draw attention to those young twinkling eyes by using a dash of mascara. Flutter your lashes to make those young lads fall head over heels in love with you.
3.Eyeliner
If you had to choose between two makeup products, I can vouch for the perfect with just a dab of lip gloss and eyeliner. Since you're young and carefree there is nothing to stop you from trying on different colors of eyeliner.
4.Tinted sunscreen
You cannot step out of your house without applying sunscreen. Why not choose a product that gives you protection s well as covers all that blemishes and makes you a shade lighter. Choose a color that suits your skin tone and watch and apply at least an hour before you plan to head out.
5.Glimmer eye shadow
If your teenager is heading out for a party, then make her shine all the way by dabbing on some glimmer eye shadow on her eye lids; and transform her eyes into something that will make heads turn, in a good way of course.
Make sure when you're making a bag of essential makeup for your blooming teen not to forget to add any of these amazing makeup products.
Zubina
Zubina is someone who believes in "women supporting women" and women empowerment is her ultimate motto. She holds a master's degree in public health and has a firm belief that mental health is as important as physical health. She loves playing with words, therefore she started her career as a writer who comes up with blogs that can help other women who are suffering physically and mentally. Ashley loves learning about several different health issues, hence you can find solutions for almost all the problems in her blogs. Have a look at her blogs and you will love them for sure!
Related posts