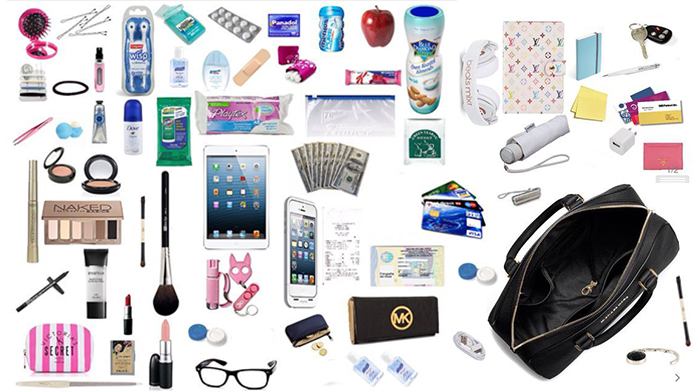 Whether it's for a short stroll down the lane, a full working day, shopping, picnic, party, romantic date or a long vacation, should plan out in advance what all we need to carry along. As every new moment in our life comes with big surprises, at least we can be prepared with the basic necessities. Hence, here is a list of items that could come in handy at any situation. Who knows, it can turn out to be a lifesaver.
1. Carry A Suitable Handbag
So, first and foremost, the object in which you will be carrying your essentials should be strong and spacious. Means, your purse, handbag or shoulder bag should have enough space, with adequate number of pockets and it ought to be able to bear the weight of the items you put in. And, yes it should look trendy as well.
2. A Handkerchief Or Tissues
Secondly, a handkerchief or tissue paper could be counted as an important object to carry with you always. It'll protect you from dust and smoke if you happen to get exposed to any one of them, anytime. It can also be useful in wiping away oil or sweat from your skin and will also help in your sneezes.
3. Simple Makeup Kit
A makeup kit is also necessary. If not for a heavy foundation or loud makeup articles, a suitable cream; day cream or winter cream, compact powder, a concealer, a lipstick or lip balm, eyeliner and kajal can give you an immediate touch up as and when required.
4. Hair Brush Or Comb
A hair brush or comb is also not to be forgotten. Your hair may get untidy or entangled at any time of the day. So, you can tidy it up and enhance your look.
5. Safety Pins
You can take Safety Pins too as a friend in need. They can be a saviour to your wardrobe malfunction, or even temporarily clasp your jewellery.
6.First Aid
A quick remedy for your minor health issues like a balm, bandage, an ointment, etc., as first aid, is also very important to keep in your purse.
7. A Nutritious Snack
If you are not sure about the length of your day out, it's advisable to carry a nutritious snack and some drink or water. You should avoid staying hungry for a long period, come what may!
8. Mobile Charger Or Battery Bank
Of course, you will definitely not leave home without your cell phone(s), but, your mobile charger or portable battery bank can come to your rescue often.
9. Other Essential Items You Should Not Forget 
A notebook and pen or pencil can be very useful for taking down any instant notes or updates. Though you can use your notepad in your mobile as well. And, yes a memory stick can be of great use many a times.
For those who find it necessary, a breath freshener or a mint chewing gum can be carried along. A deo or perfume can also refresh you if it's gonna be a long and sweaty day.
You pretty well know when the time comes to push in your sanitary napkins into your hand bag. However, keeping it with you little bit in advance to your menstruation cycle date can prevent you from unwanted stain and leakage.
An extra pair of jewellery, like earrings which are the most prominent, can be carried along. It will guard you from looking odd; if you happen to lose any one of the pairs you were wearing. Also you should carry a hair pin or clip as per your choice for your hair hassles. Sunglasses or scarves can protect you from direct sun rays.
Certainly, as we are aware, anything can happen anytime, it is very important that you accompany yourself with something that'll protect you from any danger. A pocket knife has multiples uses. A pepper spray is also good for self defense.
Last but not the least, you can easily pick and choose your required bank, travel, shopping or ID cards if you insert them in a card holder, safely. Carrying cash in wallets is up to you as pick pockets usually hunt for them.
Related posts