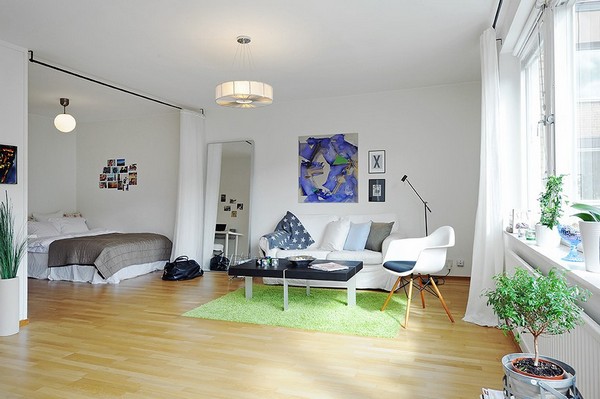 A lot of us live in matchbox size apartments. We all want our homes to appear larger than they actually are. So how do we actually manage to do this?
1. Curtains
Curtains are a tricky accessory. If used right then they can create illusions the way you want. To give the illusion of longer walls, opt to stitch your curtains from roof to the floor. Light colored might not keep the sunlight out so instead you can opt for double layered curtains, where the outer layer is of a darker fabric and the one that all can see on the inside is of a fabric of the same or similar shade as that of the walls.
2. Multi-purpose furniture
If you buy tons of furniture then your house is definitely going to look cramped. Buy furniture that serves more than one purpose. For example if you're going to buy a chest of drawers, then buy one that comes with a foldable desk that can double up as a study table.
3. Mirrors
Mirrors give the illusion of more space. Affix mirrors on one wall in a room to make it seem like a bigger space.
4. Go minimal
Do not create a clutter in your house. Buy simple light colored furniture. Do decorate the room but do not overdo it. Give the impression of a free flowing space.
Now that you know the basic tricks of making a room look larger, use your imagination to make it a stylish one of a kind livable clutter free space.
Zubina
Zubina is someone who believes in "women supporting women" and women empowerment is her ultimate motto. She holds a master's degree in public health and has a firm belief that mental health is as important as physical health. She loves playing with words, therefore she started her career as a writer who comes up with blogs that can help other women who are suffering physically and mentally. Ashley loves learning about several different health issues, hence you can find solutions for almost all the problems in her blogs. Have a look at her blogs and you will love them for sure!
Related posts