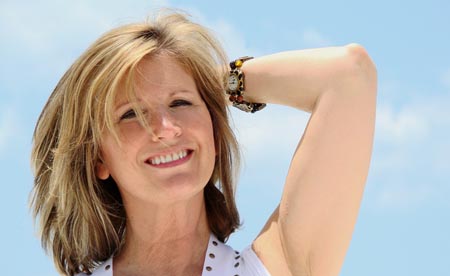 You can still look beautiful in your 50s. You may not have a toned body like before; however, just a few style tips can make you look smart. Though you have not gained weight after your 30s, but the clothes which you are using in your 30s, cannot fit you the similar way. That's why you need to get dressed smartly.
Here we share some style tips for women in the 50s to get complements for great looks
Dressing like a younger, does not mean you look younger. Just face the truth. With a good outfit and a good haircut, you can look gorgeous. While dressing, follow the basic fashion tips, such as buy clothes which fits you perfectly, do not blindly follow trends, instead wear clothes which look good on you. If you dress in well fitting and well made clothes, it boosts your confidence and you will feel and look better than anyone else.
Casual look-As a part of casual dress, you can wear a nice pair of jeans. Nowadays, jeans are available for every body type. It makes easy to choose the best fit. Take sufficient time to try out a variety of styles and sizes of jeans and then select age appropriate jeans. Consider some points when you choose jeans. Such as, avoid jeans with embroidery or holes. Choose blue color only. You can wear the classic top with accessories and a perfect pair of shoe. It makes the complete look.
Professional look-For a professional look, update your wardrobe with the quality pieces. Such as Trench coat, white shirt, leather jacket and pencil skirt, which suits your body type, and different types of shoes- such as flat, low heel and casual shoe.
Makeup-Instead of heavy foundation, go for natural blush. It will look better. Make sure to choose lipstick and nail polish of paler shades. With makeup, you will look fresh and young.
Hair-It is said that, you look older with gray hair. If you have decided to color your hair, choose lighter shades, than the base color of your hair. Your face will lighten, by doing so. Do not forget to touch up every 4 to 6 weeks. If you are doing the same hairstyle for many years, a little bit change can make you get a new look. Such as change the length of hair, add some angles or layers. Not only the short hair, but long and shiny hair also give you a sophisticated look.
Basic fashion tips for women 
Never match your bag with shoes.
Always buy a dress, which fits you perfectly.
Sleeveless would not look good on flabby upper arms.
Do not wear tight clothes/pants.
Show of the curves, by emphasizing the waistline.
Use a belt with a sheath dress, so that middle portion of your body, get focused instead of the belly.
Use classic pieces with seasonal trend accessories.
Update your wardrobe every few months/ years. This way you can get rid of unfitted clothes or outdated clothes.
If you follow these style tips, you will definitely get complements for stunning and fabulous looks even in your 50s.
Related posts