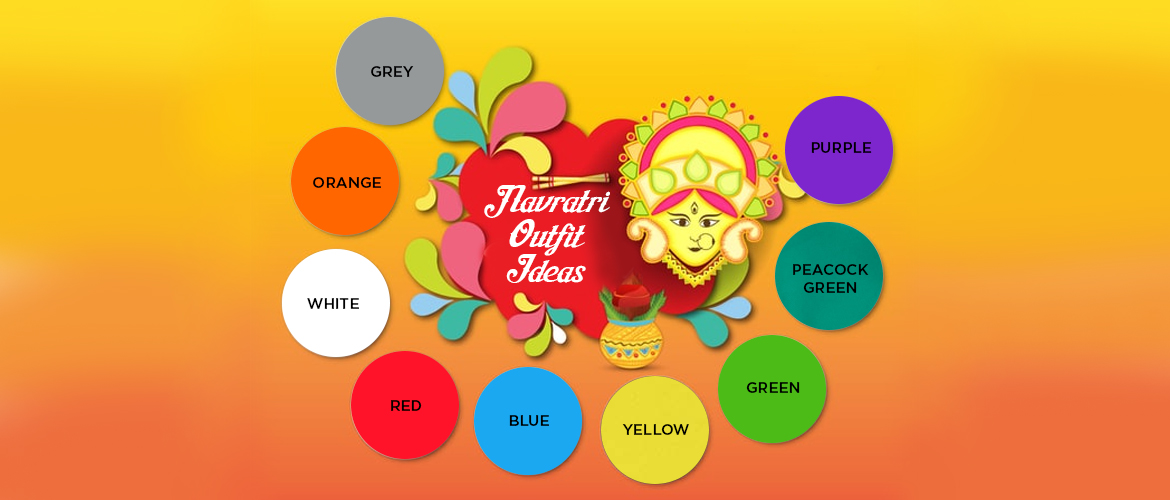 The word 'Navratri' in Sanskrit means nine nights. It is celebrated in various parts of India. In the eastern and northeastern regions of India Navratri is celebrated as Durga puja. It is celebrated all over India with different names and for different reasons but the idea of Navratri/Dussehra/ Durga Puja is to celebrate the victory of good over evil.

Navratri 2020 is nothing without dandiya claps and colourful outfits. If you are not sure what to pick for the 9 different days of Navratri, we are here to help. Navratri is a festival to celebrate womanhood. This year Navratri is celebrated from September 29 to October 25. Here are 9 different ways to look your best for the 9 days of Navratri.

Look 1- Grey
Let's start the Navratri season with a color that is subtle and beautiful. There is no better time to wear grey saree than Navratri. Grey saree with shiny little stones or simple embroidery is perfect for the first day of Navratri 2020. If you feel your saree is too grand just pair it with a simple silver pendant and a stone earring. If you are picking a plain grey saree, then you have more options to style your outfit. A stunning silver necklace with grand stone earrings and matching bangles will make you look like an angel. For this look, aside partitioned look with loose hair would be perfect. To complete your look, pair it with silver or white heels. For your reference here is how Priyanka Chopra is flaunting the look like a princess.
Look 2- Orange
The color of the day is orange. This color will light up your whole day. This look will spread your vibe like sunshine. Here you can look at Hina Khan flaunting her orange lehenga like a queen. Her subtle yet classy eye makeup adds so much beauty to the outfit. Try out this look for the second day of Navratri 2020. It is such a bright and elegant look that is perfect for all skin and body types. This outfit will bring you into the actual celebration mode in order to pay tribute to Goddess Shailaputri. You can complete this look with a pair of orange jutis. 

Look 3- White
This day is a special dedication to the goddess Brahmacharini. White is considered to be her favorite color, therefore on this special day here is a great look. Look how pretty and elegant the look is. Grab your favorite white Kurti with some simple designs in it, pair it up with your patterned or plain palazzo pants and complete your look with a grand looking dupatta of the same color or you can also opt for contrast colors if you want to add some drama. White simple earrings and a pair of jutis are all you need in order to have the angelic look. Look how stunningly Kajal Agarwal is flaunting it!

Look 4- Red
This day is dedicated to goddess Chandraghanta as her favorite color is red. She is known for her bravery and boldness. In order to go with the theme of the day, you can opt for a more mature look. There is no other better pick than these beautiful red kurti of Kareena Kapoor. Not even exaggerating but simply the outfit is enough to give you the bold and brave look. Pair it up with bright earrings and now you are all set to fit in the vibe. Now get ready to get all your wishes fulfilled by goddess Chandraghanta.

Look 5- Blue
This day is dedicated to goddess Navadurga and concentrates on the health and wealth of our lives. She denotes calmness and the power of almighty. We cannot find a better outfit than this. This look is a pure elegance. Look at how beautifully Aditi Rao Hydari is carrying the outfit. To complete this angelic look all you need is a blue kurti with some beautiful designs, plain palazzo pants, a pair of jutis, and some confidence. If you want to go with the trend you can pair it up with a black belt and slay like how Aditi is doing here!

Look 6- Yellow
This day is dedicated to goddess Skandamata and she is believed to fulfill everyone's wishes and provide them satisfaction in life. This day usually starts with beautiful decorations with colorful flowers and ends with some elegant dance moves. Get ready with some beautiful dance moves on this special day. This outfit can literally compliment all your whirls and twirls beautifully. Look at how pretty Kriti Sanon is rocking the yellow outfit with that pretty bandana. A yellow kurti and a matching palazzo or skirt would never go wrong. Try this on this special occasion.

Look 7- Green
This day pays tribute to goddess Katyayani. She is believed to fill this world with peace and harmony. A green kurti with golden borders and a big beautiful smile is all you need to complete this look. If you want to try out a South Indian style, this is the best option. Look how beautifully Samantha Akkineni is flaunting it. To add more elegance, wear your favorite pair of Jhumkas and a beautiful pair of flats. This is the best option for the last few days of Navratri 2020. This look is a must-try!

Look 8- Peacock Green
This day is dedicated to goddess Siddhidhatri. To get her blessings, wear her favorite color peacock green. Try out saree on this eighth day of Navratri. Sarees are all you need for a gracious and beautiful look. Let's take some inspiration from Taapsee as she is giving some serious saree goals. Pick your favorite patterned saree and to match with your patterns pair it up with a silver or golden jhumkas. This look doesn't need anything but a plain red or black bindi to complete your look.

Look 9- Purple
This day is for goddess Mahagauri. Wear her favorite color on this day to show respect. This is the last day of Navratri 2020 and if you want to end this beautiful festival with nothing but pure elegance, Kajal Agarwal is giving us some inspiration. A simple boat neck blouse with a neatly designed saree is all you need to get the look. Pink lipstick and a pair of beautiful earrings for additional styling and now you are all set to get compliments from everyone!

Tip- To add more elegance to your outfits, try wearing 9 Different padded bra Colors For Navratri 2020 for a more fulfilled look.

We would love to hear how these ideas looked at you during the Navratri celebration. Try out these looks and thank us later!