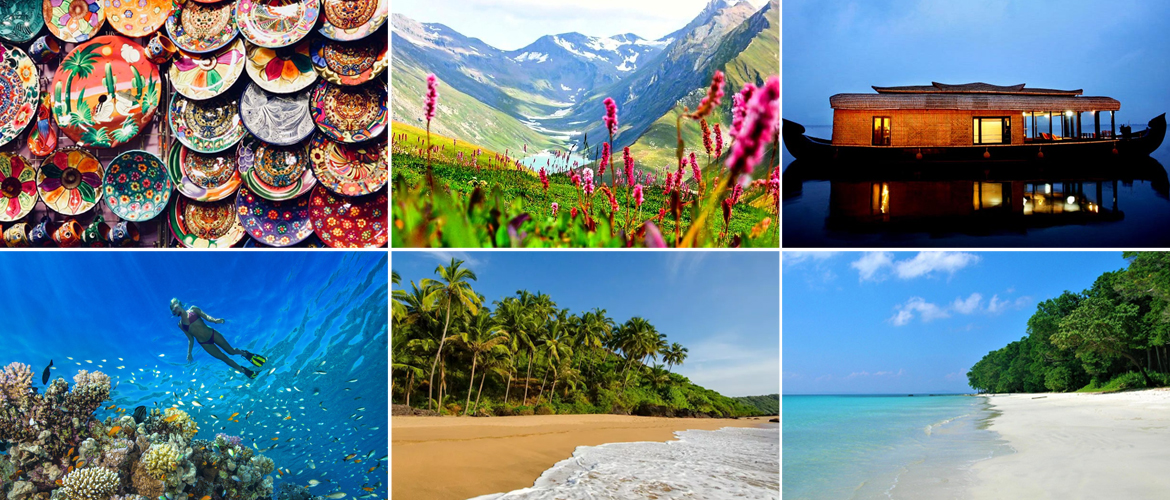 Advantages of traveling to India
India is renowned for its unity in diversity. It is a diverse country with many different cultures and traditions, as well as a long history of kings and freedom. India is formed differently than every other nation. There are 270 mother tongues, 121 additional languages, and 22 official languages. Its the second-largest country in the world by population, and individuals from different regions of the country not only speak different languages, but also adhere to various traditions, and cultures, and have distinct histories.
As India is the land of agriculture, the Indian cuisines are no wonder they are enticing and mouth-watering.  In India, there are 29 states, each with a signature food. India is a fantastic location for street food. Continue reading to learn more about the best places to visit in India.
Top Rated Tourist Attractions in India
Taj Mahal
One of the seven wonders of the world, the Taj Mahal is a well-known mausoleum. It is seen as a representation of love since Shah Jahan, the Mughal emperor, erected it in memory of his wife Mumtaz Mahal, who passed away after a prolonged labor in 1631. White marble was used throughout the construction of the Taj Mahal, which continues to be its most notable characteristic. Quranic verses are inscribed in calligraphy on the walls, and the intricate patterns are beautiful.
The beaches of Goa
In Goa, there are more than 35 beaches, however, not all of them are intended for relaxation. Goa is the ideal location if you desire to stay at a stunning beach resort. There are temporary coco huts on a few well-known Goa beaches where tourists can spend the night. Both a honeymoon and a babymoon are ideal in Goa. For those looking for excitement, there are several possibilities, including scuba diving, bungee jumping, paragliding, hot air ballooning, flyboarding, camping, and hiking.
The capital
The historical monuments in New Delhi, the capital of India, are no less impressive. The well-known historical sites in Delhi that you really must see include Qutab Minar, India Gate, Red Fort, Jama Masjid, and Humayun's Tomb. Delhi is the best one-spot shopping destination. The well-known shopping areas are Sarojini Nagar, Lajpat Nagar, Chandni Chowk, Janpath Market, and Karol Bagh, and these markets have a great selection of leather goods, colorful imitation jewelry, brassware, shoes, fashionable clothing, handicrafts, and the best shopping location for brides to choose their bridal wears for their special day.
Andaman Island
A beautiful island that would be ideal for a honeymoon. You can relax and watch the sunset on one of the white-sand beaches with blue ocean and coral reefs. The greatest locations for adventure sports including snorkeling, boating, fishing, and scuba diving are Radha Nagar and Elephant beaches.
Kerala
The backwater cruises in Kerala are one of the most popular tourist destinations
 in India. Houseboats will make you dwell in nature. The hill stations such as Munnar and Wayanad are the ideal places to take a break from life and refresh your mind and spirit.
Kashmir
The visit to Kashmir will definitely take your breath away. The beautiful valleys, snowcapped mountains, captivating meadows, saffron fields, apple orchards, and the touch of snow will give you a profound view of paradise. Srinagar, Gulmarg, Leh Ladakh, Kargil, and Pulwama are the must-visit places in Kashmir.