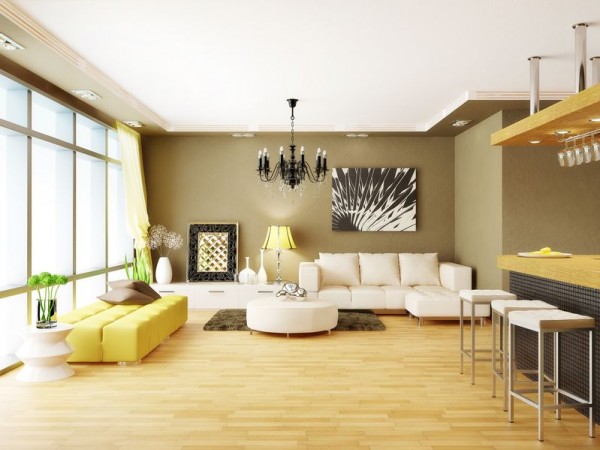 It is not common for people to get wild in their home decor. Most of us feel it's better to play it safe and stick to neutral shades, whether it is to pick a shade of the sofa or our wall color.
But there are some decorating risks that one should take in their lifetime. So bring out your personality in your decor, no matter how crazy it may be.
1. Mismatched furniture
It is extremely boring and unimaginative to buy furniture sets which math each other. Instead buy individual pieces that somehow harmoniously blend with one another.
You can even mix antique furniture with contemporary furniture. You just need to balance it out right. Go with the feel.
2. Prints
A lot of people are scared to used prints in their decor in the fear that it would give the impression of being too loud or a too much and make a soup of everything.
But once you get the art of balancing out the prints, you will wonder why you ever stayed away from them in the first place.
3. Purchase a bright sofa
Most of us stick to the neutral shades of sofa like beige, white, grey or black and accessorize using colorful cushions.
But what is stopping you from buying a colorful sofa that is sure to create a statement. For example you can bright red sofa and decorate it with light shaded cushions.
Another added advantage of buying brighter shades of sofas is that they cost lesser than the safer neutral shades as they are not as much in demand.
4. Paint doors and trims a different color
Again while painting doors, we stick to neutral shades. Get bold and paint the doors and trimmings a bold color like red or ink blue. Just make sure the color matches your wall color.
5. Decorate the ceiling
Most of us leave the ceilings bare. But ceilings also can be made more fun by add a touch of decor in the form of stenciled art, wallpaper or even objects meant for walls. Use your imagination and let it loose.
6. Play with colorful rugs
Don't be a bore and leave your floors bare or even decorated with pastel shades. Use colorful rugs and add a dash of spice and color to your room.
7. Decorate a wall in a different accent
Highlight a wall in a different color as the rest of the walls. You can make it the center of attraction by adorning it with wallpaper, mirrors, or in any other way you can think of.
Zubina
Zubina is someone who believes in "women supporting women" and women empowerment is her ultimate motto. She holds a master's degree in public health and has a firm belief that mental health is as important as physical health. She loves playing with words, therefore she started her career as a writer who comes up with blogs that can help other women who are suffering physically and mentally. Ashley loves learning about several different health issues, hence you can find solutions for almost all the problems in her blogs. Have a look at her blogs and you will love them for sure!
Related posts