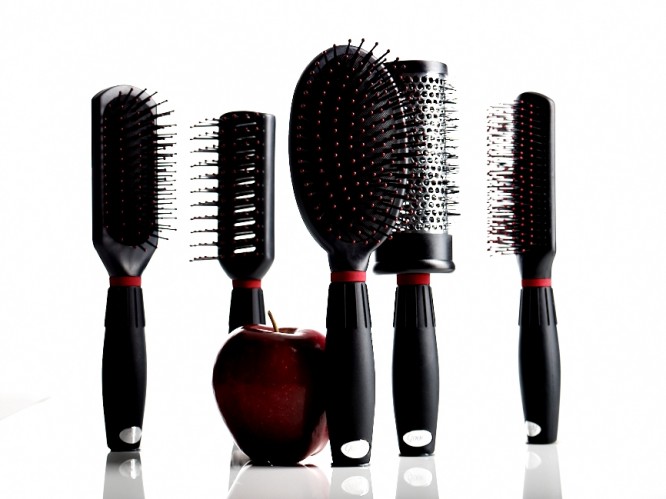 Picking the right hairbrush for ourselves can be a nightmare, especially if you are not familiar with the different brushes and which hair type or purpose they are best suited.
The hairbrush isle in the supermarket will be flooded with brushes ranging from ones with nylon bristles, plastic bristles to boar bristles and handles made of different materials.
1. Fine tooth comb with rat tail
This comb is best suited for those who want to prevent flyaways near the crown and for those who want to smooth out the hair.
This comb has close thin teeth that will create more tension and grab the roots easily. Don't forget about the rat's tail. This pointy end will help you in taking your parting; no matter how complicated you want to take it.
2. Wide tooth comb
This is your solution to detangling your hair, whether it is wet or dry. It is ideal even for those people whose hairs are so damaged or delicate that breaks when they are combed with other combs.
A wide toothed comb reduces the tension or friction on the hair and prevents easy breakage.
3. Vented brush
A vented brush is one that comes with holes or gaps near the bristles. It is ideal for those who want to add volume to their hair. This brush helps in reducing the blow-drying time as it allows the air to pass through.
This brush can also be used for styling and even for those who have coarse hair, as the bristles are widely spaced.
4. Round brush
Round brushes comes in lots of varieties. It is the ideal brush to be used for styling hair, especially when blow-drying.
Barrel brush: A round barrel brush with compact bristles is ideal for a total blowout. It not only lifts the hair but it also lends the required tension while drying to hold the style.
Bristled brush: These brushes help in detangling coarse and thick hair. It can be used on wet hair. It is perfect for adding volume to hair.
5. Paddle Brush
This brush is ideal for long hair. The combing area reduces the extent of the task of us brushing our hair. A paddle brush is ideal for detangling long hair and does not create volume. It keeps your hair looking sleek, shiny and smooth.
6. Half round brush
This brush is perfect for bobs. It dries bangs and bobs with ease. The curves of this brush are ideal in following the curves of the head and hair.
7. Oval standard brush
There is a standard hairbrush that all must own. It is suitable for all hair types as it is made with natural boar bristles. The cushion at the base helps in reducing friction and also helps in polishing your hair strands.
They are great for brushing out curls and even distributing the natural oils down till the tip of your hair.
8. Metal brush
Metal brushes are a perfect finishing tool. They cannot be used on wet hair but are ideal for forming curls at the end. They are perfect at holding curls in place.
But remember to use them only at the end. Imagine a situation when hot metal comes in contact with delicate hair fibers that are wet. You hair can get damaged. So beware!
Additional tips:
 Never use a metal brush for styling wet hair.
For styling with heat, choose brushes with holes or those that are made of ceramic so that it reduces the damage caused by heat to your hair.