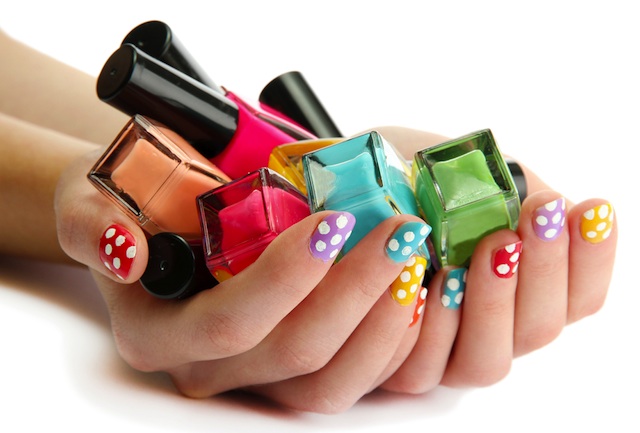 Have you often scouted the market for a shade of nail polish that matches your dress?
Don't fret. You can make the desired shade of nail polish with just a few simple ingredients.
Here's what you need:
Eye shadow – of the desired color
Sandwich bag
Small mixing bowl
Brush
Clear nail polish
How to make nail polish at home:
If your eye shadow is already powdered then you need not do anything. But if is a slab then you need to place it in the sandwich bag and crush it with a heavy object till it becomes a fine powder, without any lumps.
Cut a tiny hole in the corner of your sandwich bag and put it in the mixing bowl.
Pour clear nail polish into this powder and mix well using the brush of a thick toothpick.
Make sure that there aren't any lumps.
Add more powder of liquid nail polish to get it to the right consistency.
Once mixed well, apply to the nails using a brush.
This homemade nail polish usually comes out with a matte finish, so if you want a glossy shade of nail paint, then you can apply a coat of clear nail polish to your nails. You'll want to paint your nails fast with this homemade polish as it dries out quickly.
Additional Tips:
Homemade nail polish dries out quickly so apply it real fast.
One important point that you need to note is that cheap clear nail polish does the same work as the expensive ones.
Adjust the ratio of the polish and eye shadow according to the desired consistency.
So if you have a few jars of unused eye shadow then it's time to put it to good use.
Zubina
Zubina is someone who believes in "women supporting women" and women empowerment is her ultimate motto. She holds a master's degree in public health and has a firm belief that mental health is as important as physical health. She loves playing with words, therefore she started her career as a writer who comes up with blogs that can help other women who are suffering physically and mentally. Ashley loves learning about several different health issues, hence you can find solutions for almost all the problems in her blogs. Have a look at her blogs and you will love them for sure!
Related posts