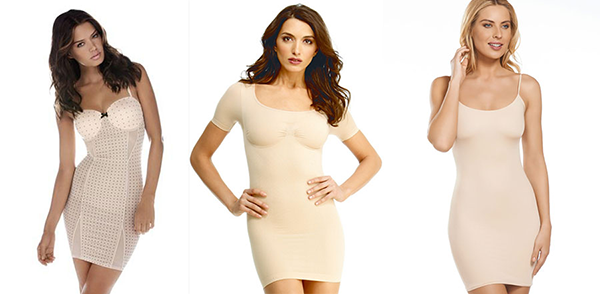 How many times have you envied the perfect figure of celebrities at red carpet events wearing gorgeous gowns showing off their perfect cleavage and waist? So, you want to wear such a gown but your bulge at wrong places won't allow. Then you should try a shape wear. Who knows, many of those celebrities too must be wearing a shape wear!
Shape wears are those piece of clothing that are under wears, designed to give body a perfect shape by hiding bulges, fat thighs, shapeless hips, etc.  While you get different types of shape wear, not all suit all kinds of clothes. There have been instances where somebody just buys one type of shape wear and wears it with different clothes, be it jeans, dresses, gowns or shorts.
You should choose shape wears that suit your body, the kind of clothes you are wearing and so on. Read on to find how to choose the right shape wear and how to shop for different shape wears that suit different outfits.
Here's how you should choose a shape wear that suits you:
 Look for the size: Most of the stores selling shape wears can help you choose the right one after taking your measurements. The right size is important, not the one too small or too big.
 The body part you want to correct: You can choose the right shape wear as per the body part you want to define, be it tummy, hips or waist. Find your problem areas and then choose the shape wear as per the need.
Which shape wear to select for different outfits?
Micro-thin full-body shaper slip: Such a shape wear is apt for a clingy wrap dress. Wear it and flaunt your perfect figure.
Cami bra: Wear it with a knit that hug to your body and you also need not worry about showing bra lines.
Shaping thong: It is best for skinny jeans to give you the perfect leg shape that you always wanted.
A convertible bra with adjustable straps: Such a shape wear is perfect for that little black dress, either strapless or off-shoulder. Flaunt the new look with pride.
A shape wear with high waist control: If you are choosing to wear a pencil skirt, this is the inner wear you should choose. It will just let your body be there, without any hangouts.
A plunge bra with a bridge in between: Throw all caution and worries to wind when you are out wearing the dress with a plunging neckline with this shapewear.
Soothing camisole: If you are wearing a T-shirt, either sheer or lace, then this shape wear will allow you to give a shape to the body and at the same time, not tell.
A shape wear tank: This is perhaps the best choice for daily use, especially to wear to work. It can be a layering cloth for any clingy top and it is also great choice for women with heavier busts. There is no fear of anything popping out with this tank. You carry on with your presentation with confidence. The tank will take care of the rest.
Related posts