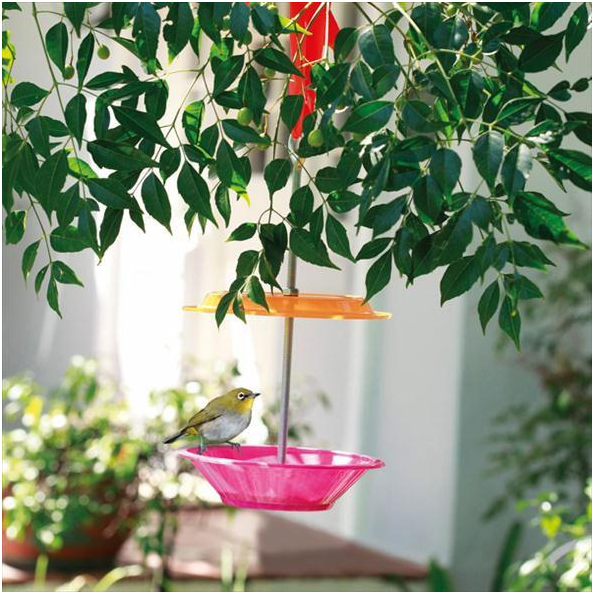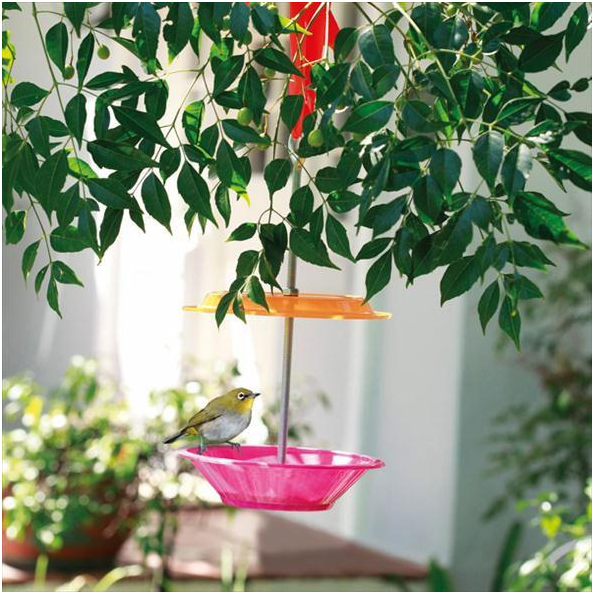 When you have a garden it will be nice if you have birds visiting it. The chirping of the birds will soothe those stressed out nerves of yours.So to attract the birds we have to feed them. You can't just sprinkle bird feed all over the garden. Not only will the bird feed look messy, the birds also will leave behind dropping and other debris.Here's a way to make your garden look fancy and attractive and also gives you a way to feed the birds and make them keep coming back to your garden.Why not make a bird feeder?!
Here's how we make it:
Materials required:
Plastic Plate – 1
 Plastic Bowl – 1
Drill
Ribbon – 1
Nuts – 4*8mm
Eye Bolt – 8*300mm
Procedure:
Drill a hole in the center of the plate.
Insert the bolt.
Screw on nuts on either side of the plate to hold it in place to the bolt. The plate should be affixed on one end of the bolt.
Now drill a hole in the center of the bowl.
Screw a screw about 2cm away from the other end of the bolt and thread the bowl in place.
 Once the bowl is in place, screw another nut on the other side of the bowl to fix it in one place.
Finally thread a ribbon through the bolt's eye and hang from a tree branch.
Your bird feeder is ready to welcome all the birds. So what are you waiting for? Fill the bowl with lots of bird seed and watch them flock to your garden.You can make the bird feeder look more interesting by adding your own fun elements to it like sticking shiny stones or leaves to the plastic plates.
Zubina
Zubina is someone who believes in "women supporting women" and women empowerment is her ultimate motto. She holds a master's degree in public health and has a firm belief that mental health is as important as physical health. She loves playing with words, therefore she started her career as a writer who comes up with blogs that can help other women who are suffering physically and mentally. Ashley loves learning about several different health issues, hence you can find solutions for almost all the problems in her blogs. Have a look at her blogs and you will love them for sure!
Related posts