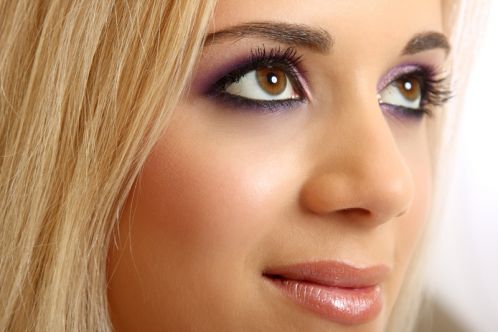 Women love to wear make up irrespective of any season because looking good and presentable is not dependent on the seasons. Fall season is a season that is synonymous with vibrant colors. A lot of make up trends can be used during this season that will make you look appealing and presentable without pinching your pocket.
Cat Eyes–This is a popular form of eye makeup. This season, famous designers like Lanvin, Christian Dior, Michael Kors and Anna Sui went for cat eyes look in their fashion shows. This trend is gaining a lot of popularity these days. Creating a pair of cat eyes that perfectly match each other is quite challenging. It needs to be done correctly to get the perfect look. This makeup trick helps in opening up eyes and making them look larger than they are. Instead of going for pure black which may look too harsh, one can go for black brown.
Lips wine in color–Wine is the color that is quite in vogue these days. Fendi, Vera Wang and Derek Lam are using this color to give a fierce look to the runaway models with wine colored lips. Sporting this color, while strutting on the ramp gives these models a unique look and attitude. This color is also available in certain subtle shades if you do not want to go for an aggressive look. Raspberry color or fine wine color is making waves in the fashion circuit this fall season.
Orange hues-Using colored eye shadows used to be a stylish woman's nightmare just some time ago but today popular designers like Givenchy, BCBG and Altuzarra are using orange hues as eye shadows on their runway models. Their lids look all the more dramatic with this fiery and bold color which is just what is needed by the designers to make a statement. If orange hues are applied in a correct manner, it can ooze warmth in the chilly season. Golden shades are also gaining a lot of popularity when it comes to a dramatic effect. Subtle shades are also available that are not too overwhelming.
Eyes in the shades of prune–Gucci, Max Mara and Oscar de la Renta are some of the well renowned designers who are experimenting with prune eyes. A wide array of purple shades is gaining prominence these days. Though, these colors are quite intimidating, correct use of this color can bring a remarkable improvement in the overall personality of the woman wearing them. Bright palettes have become quite trendy these days and as a result women love to go with purple hues on their eyes.
Smoky eyes–This is one trend that never goes out of fashion. In Fall season, it specially looks striking and appealing giving a mysterious look to the wearer. Various shades of gray can be used to outline eyes and make them look smoky.
These Fall Season trends are well within our budget and make us look cool and stylish.