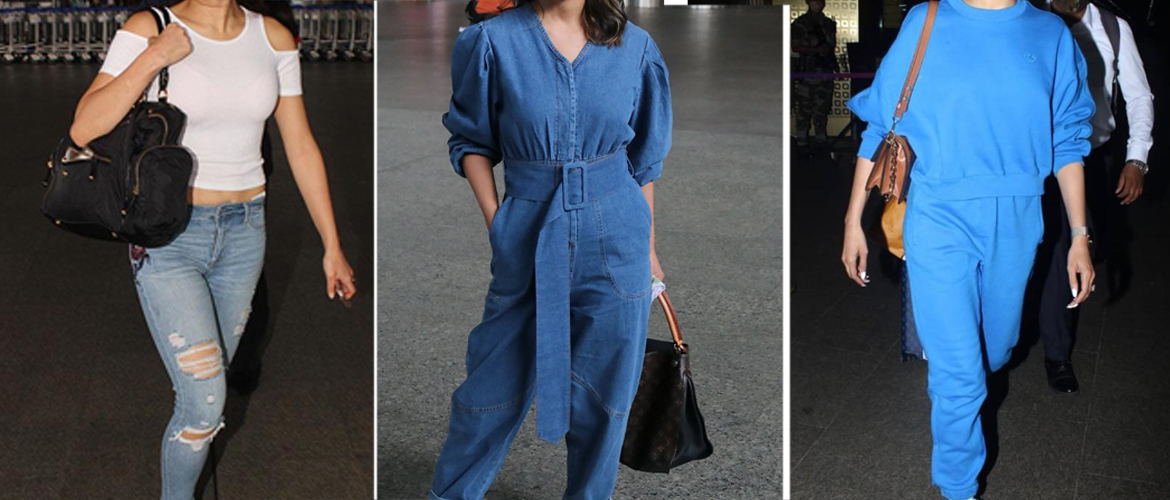 We all love to dress up and keep up costumes with the latest vogue. Airport outfits have now become a recent trend. While traveling we love to style up our dressing and also expect them to be comfortable. Read along to know the stylish outfits suitable for flying.
Stunning airport outfits for women
With their gorgeous airport attire, Indian superstars have the entire world in awe. The most inspiring celebrity outfits, from which we can draw inspiration for developing our own sense of style, are highlighted in the list below.
When traveling, well-known Bollywood actresses frequently wear a tracksuit. A simple yet stylish outfit may be created with a plain tracksuit, a pair of sneakers, a ponytail, and a cooler.
Crop Top and Ripped Jeans
A crop top and ripped jeans are made for each other. They make the perfect fit, giving the most stylish look like Bollywood celebrities Ananya Panday and Disha Patani. A loose round neck crop top or a fitted sleeveless turtleneck crop top goes apt with baggy ripped jeans or regular fit jeans. Sneakers or crocs when worn with this pair give a stunning cool look.
Who said Kurtis are old fashioned? Actresses like Janhvi Kapoor and Kareena Kapoor have proved them wrong. May it be printed, embroidered, palazzo or Anarkali, you can still style it to match it with the airport trend. Let us take, for instance, a bright blue Kurti with oxidized long earrings, free hair and with kolhapuri sandals or shoes that can give you a perfect look.
If you are a person who looks for more coverage, then jumpsuits would be a great choice. A jumpsuit is a single piece of dress that may look simple but provides a zestful look. You can inspire your jumpsuit look from Kriti Sanon. 
Denim will always enhance your style when added to your outfit. A simple white noodle top or a white turtleneck sweatshirt goes fantastic with blue denim jeans. The white and blue combination will always be a hit. 
A boyfriend shirt can be used to style your outfit in two different ways. It can be used as a shrug as well as a shirt. For instance, a boyfriend shirt can be paired with loose-fit denim jeans, giving a simple, flawless, stylish look. 
A long shrug gives a business casual look. If you are planning to wear a business casual outfit for your business trip then a long shrug is a perfect choice. A long shrug can be paired with a plain t-shirt along with slim-fit jeans.  
Keep it comfortable and trendy with a maxi gown or a knee length dress. Let's use the example of a printed maxi dress, which will look classy when worn with a pair of pointed heels and trendy coolers.
These are some of the best stylish outfits suitable for flying. Hope you found this blog helpful. Remember to look back to this blog when you need styling tips for the airport.