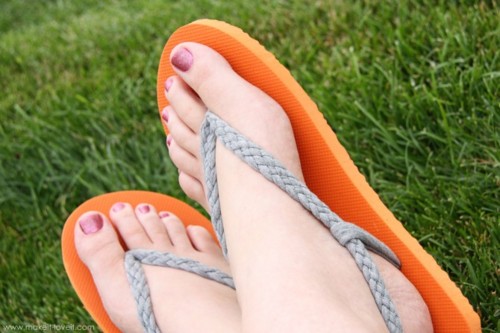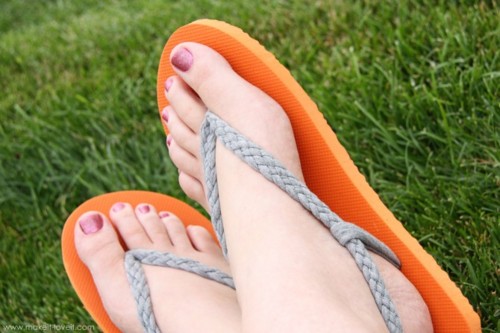 A flip-flop is a lightweight sandal usually made of rubber or plastic which makes a fluttering sound or motion while walking. Flip-flops are very comfortable to wear and can be easily slipped on and off. They can be worn throughout the year, but especially they are preferred during summer season. A few years ago flip-flop were made of rubber and very cheap, but today they come with ultra modern designs like flowers, logos, polka dots, spangles, glitters and they come with attractive and eye-popping colors like yellow, hot pink, green, lime, etc. A Flip-flop have become very familiar, be it for a beach or for a poolside party, flip-flop will definitely find a place in a woman's closet.
But wearing the right footwear is equally important, as wearing footwear with no support can cause back pain or knee pain. There are ways to keep your feet healthy and wearing trendy footwear also, with alternatives to flip-flop's which gives comfort and chic look.
Some alternatives to flip-flop are
Throw your old flip-flop – buy a new pair of flip-flop if your older footwear has cracks in the sole or has no proper fitting. This will cause imbalance while walking and the user can trip off.
Branded Footwear – branded footwear companies manufacture footwear which is warm and is tremendously lightweight. Quality material is used by some brands to produce stylish and durable shoes for males and females. These branded footwear shapes up to the user's foot size seeking comfort. These companies offer technologically advanced footwear intending on the users comfort. The footwear manufactured by these brands holds a seal of acceptance from APMA (American Podiatric Medical Association)
Choose Flip-flops that bend only – A good quality flip-flop will only bend in the ball of the foot, whereas a cheap pair will not have any support. The minimum flexibility in a flip-flop, the most comfort and support the user will get.
Perfect sized flip-flop – While buying a flip-flop or rather any footwear the size mattes. The user's heels or toes should be visible outside the flip-flop. Also an oversize pair of footwear is not advisable
Flip-flop No-No – Flip-Flop's should be avoided where there is a need of extensive walking or while playing sports or while gardening. Also in the bushes or in a jungle a flip-flop is not preferred as it can cause an insect or an animal bite on the feet. A flip-flop can be worn in and around the house for minimal walking, at a beach or poolside or at a casual party.
Fit-Flops – A Fit-Flop is a pattern manufactured in the footwear world with microwobbleboard technology, this gives a mini-massage to the user's feet while walking. It comes with great cushioning, and can be worn for long day walking or shopping expedition
Seal of APMA – choose footwear which holds the seal of acceptance from APMA (American Podiatric Medical Association), as they assure comfort and support with stylish and chic designs. APMA promotes good foot health.
So, what are you waiting for? Just find out the right pair of footwear now.