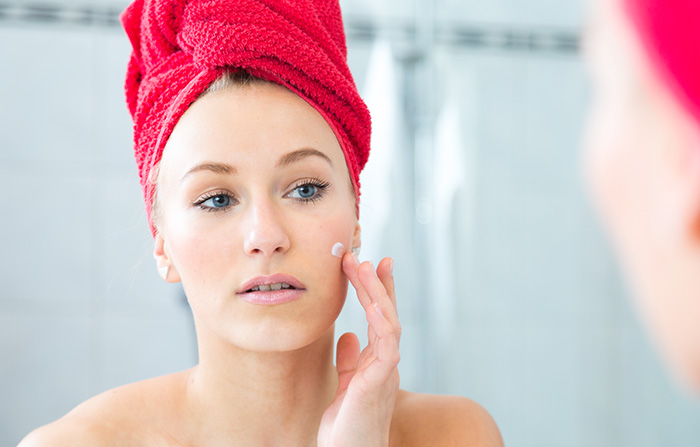 8 Primer Tricks You Never Knew
Rasha Ashraf
0
3 min

read
262
It might be a good idea to apply primer on your face before you apply any other makeup. It makes the makeup that you apply last longer and gives your face an even tone.
Here are some tricks that will light up your face:
1. Dash of color – Tinted primer
If you feel that regular foundation and primer make your face look pale and dull, then tinted primers are what you should use. You get primers in lovely shades of peach, pink and even green. Add a hint of color to your face through your primer and you will glow naturally.
2. Apply less
It is not always good to apply too much of a good thing. Some things are best applied with control and minimally. Use very less and rub into the skin. Too much of it will make it look like a cake applied under a foundation.
3. Apply a little extra around the eyes
Primer will magically cause the crow's feet near your eyes to become less visible. The primer also acts as a veil to cover up all the dark circles and even soaks up all the excess moisture in the skin and prepares it for long hour makeup usage.
4. Use mascara primer
I know you must be wondering if such a thing did exist. Well, yes it does. Apply a coat of primer onto your lashes to condition it and also thicken them with the essential vitamin oils that it contains. Simply apply a few coats under your regular mascara and watch your eyelashes become all thick and highlight them.
5. Skip acne creams
Buy a primer that already contains acne and pimple controlling properties so that you can skip applying an extra product. Applying too many products can result in more eruptions rather than soothing the skin and preventing acne and pimples.
6. Apply primer to your lips
Primer will prevent lip color from settling into lines on your lips and even make it stay on longer. If you have run out of lip primer, you can use the same one that you used on your face onto your lips.
7. Finish with powder
To get your makeup in place follow the strict order of application: primer, liquid foundation, tinted moisturizer and translucent powder. Without the powder the other layers of the makeup will not blend and gel together and as a matter of fact repel.
8. Primer on other areas of the body
Primer is not only used on the face. You get primer for the body as well. Primer in the rest of the body will help in filling in lines and even make your skin glow and look younger.
So do follow these tricks using primer to get the right look that you desire using makeup.
Related posts