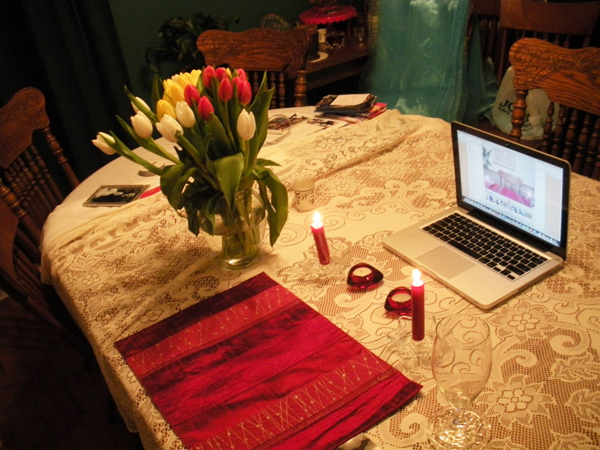 Long distance relationships are hard to maintain. You don't meet each other often and when an occasion to celebrate arises, emotions rise and you tend to feel worse rather than enjoy the moment. Just because you both live in different cities gives you reason not to celebrate the occasion, be it Valentines days, each other's birthdays or even something as festive as New Year.
Here's how the two of you can celebrate living apart in different cities:
1. Don't forget the clichéd 'I love you'
As corny as it does seem to keep telling each other how much you love each other. Relationships are more stable and secure in one that expresses and voice their love and commitment towards one another. Call or have a video call and express your love. A simple 'I love you' is enough. No one is asking you to become Shakespeare.
2. Set an e-date
Most of us in the regular world wouldn't have even heard of this. Switch on your video chat. Do things as you would normally do on your date.  For example if you guys miss having a dinner date, then arrange for a candle light dinner from both ends.  Order online for the both of you so that you both can enjoy the dinner from the same place, set the music and the lighting. There you have it! You both are in the same place.
3. Gifts
Do not stick to the boring flowers and chocolate gifts for girls and shirts and ties for the men. Buy something that your partner enjoys. For example if he loves music, buy him the CD that he has always wanted to own.  You can even opt to gift each other personalized gifts that will make him think of you even more each time he looks at it. For example you can monogram his name at the back of a watch.
4. Watch movie together
You must be wondering how that is practically possible with the two of you in different places. But trust me it is. Both of you switch on your phones and watch the movie that you both love together. Laugh and cry over the same scenes and basically enjoy the movie together. You surely will feel closer than you were before the movie started.
5. Send a video
Send a video to your loved one about your feelings for him or her, what you mean to them and how your life as evolved together. Relive the memories together in the video.  You can even include small messages from friends and family about the two of you to make the video more special.
Distance makes the heart grow fonder. So try these ideas to make an occasion special, even if you both are miles apart.
Zubina
Zubina is someone who believes in "women supporting women" and women empowerment is her ultimate motto. She holds a master's degree in public health and has a firm belief that mental health is as important as physical health. She loves playing with words, therefore she started her career as a writer who comes up with blogs that can help other women who are suffering physically and mentally. Ashley loves learning about several different health issues, hence you can find solutions for almost all the problems in her blogs. Have a look at her blogs and you will love them for sure!
Related posts