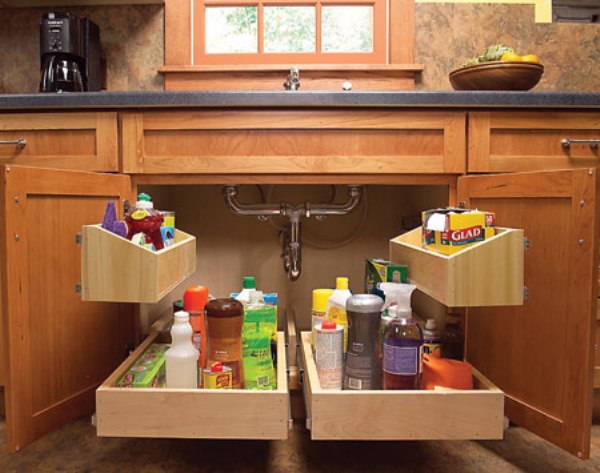 A lot of us hate the place below our sinks. They turn us off with all the pipe lines and its dinginess. Most of us stock our cleaning supplies and other junk in this place. Out of all the spaces in the house I'm sure that the space below the sink is the most neglected.
Here are five ways to organize that dreaded area under the sink:
1.Make kits or baskets
We know that you stick all your cleaning supplies under the sink, but are the organized? Do you always have to wade through a ton of stuff before you get to your window cleaner? Separate your cleaning supplies category wise. Buy a couple of trays or baskets and separate the supplies. For example keep your kitchen cleaning supplies in one basket or segregate them according to usage. Whichever ways you decide segregate them, you will land up with an organized space no matter what.
2.Use the door
Do not leave the door lying around. Attach hooks, hangers or even wall pockets on the door to hand your stuff. You can use the hooks to hang gloves, washcloths or brushes.
3.Use clear boxes
Spaces below the sink are usually dingy and dark. So if you hate opening this gloomy space, one way that can brighten the area is to use transparent boxes to store your stuff in there. Not only will you be able to see the stuff stored in these boxes but it will also look great and neat.
4.Keep your recycled goods
Make a sorting station for your recycled goods under the sink. Use a couple of garbage cans and label them to mention the type of recycled material such as glass, paper or plastic.
5.Creatively use a tension rod
Use a tension rod under your sink to hang all your stuff. This method is an instant space saver. You can hang your sprays and cloths and still have room for more stuff.
So get the area under your sink all organized and trust me it won't take as much time as it looks.
Zubina
Zubina is someone who believes in "women supporting women" and women empowerment is her ultimate motto. She holds a master's degree in public health and has a firm belief that mental health is as important as physical health. She loves playing with words, therefore she started her career as a writer who comes up with blogs that can help other women who are suffering physically and mentally. Ashley loves learning about several different health issues, hence you can find solutions for almost all the problems in her blogs. Have a look at her blogs and you will love them for sure!
Related posts