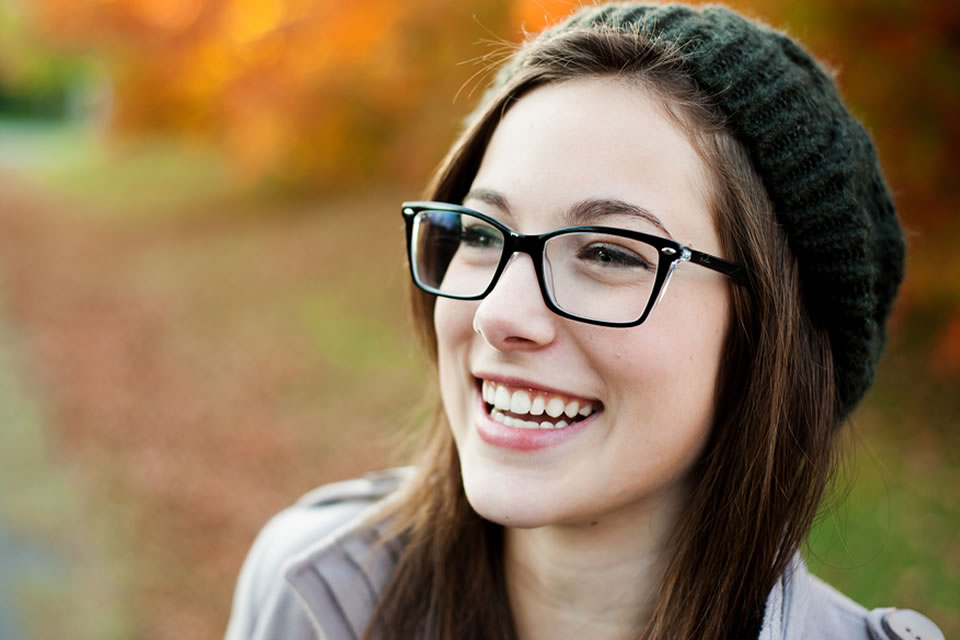 Spectacles always draw attention to your face than anything else. So choosing eyewear that suits your face structure and features is very vital. The style or design of the frame of your eyewear can transform your look completely and accentuate your facial features. If you are a person who is going to wear spectacles for the first time then this blog is for you. There are plenty of eyewear styles that you can experiment with. Get to know the cool and trendy frames to look stunning and get ready to lose the geeky look.
Things you should look for in an eyewear
The frame alone doesn't spice up your look. The color, size of the frame and the bridge are what you actually have to experiment with. When you see a person what you notice first are their eyes so the eyewear that styles your eyes must be treated as an essential accessory.
Clear glass frames
Clear or translucent frames have been around for many years but didn't hit the trend. If you are looking for a subtle look then clear glass frames are for you. These frames are an absolute delight to wear because they go well with any complexion and look good on all face shapes. Also, it's easy to match any outfit with them.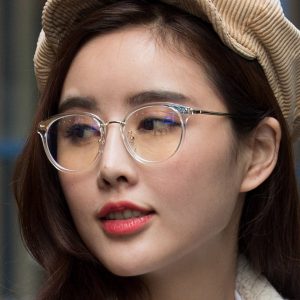 Tip:
You can also try translucent pink, brown, and grey hues apart from the colorless frame.
Try to keep your makeup minimal, heavy makeup doesn't go well with clear glasses.
Wood inspired glasses
Wooden glass frames are amiable and elegant stuff that can turn a boring geeky look into something special and different. These frames can help you pull off the cool look. The usual frames are a little boring at times; now try on these wooden frames to refresh your optical aesthetics.
For your next eyewear, say yes to  wooden eyeglasses to exhibit the fusion of trend and comfort.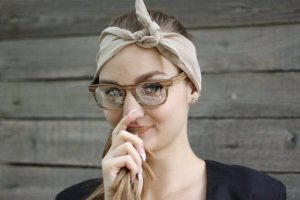 Tip:
These frames give you a captivating and fresh look when you choose a unique design, style, and appealing color
Choose frames of darker tones with light grainy texture, pinkish tones, or any warm tone.
Aviator glasses
For a bold and fashion-forward look aviator glass frames are the best. If you have a pointy jawline and pointy brow line then aviator frames suit you better.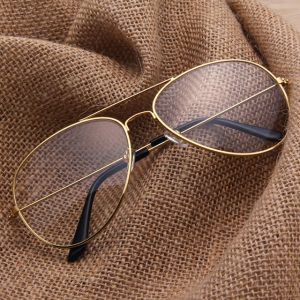 Tip:
Teardrop style: If you have a long face then this isn't your style.
Navigator style: It's a square-shaped frame that suits a long face.
Sporty style: This frame has a squared bottom with wide lens so it covers the full eye area. Try this style more than once before you decide to wear it as your prescription glass.
Club master glasses (semi-rimless)
Club master frames or semi-rim frames are for a sophisticated and womanly look. Semi rim glasses are lightweight so you can wear them all day. Even if you are prescribed with high power glasses you don't have to choose the traditional thick frames to hold the thick lens. You can go for club master glasses to look young and elegant.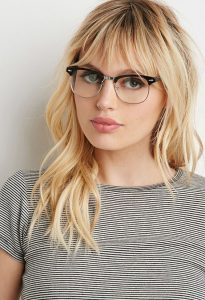 Tip:
If your face shape is triangular or diamond then semi-rim glasses are for you.
Since these frames are delicate avoid choosing them for kids. At the same time, it's an ideal accessory for adults.
Thin and lightweight metal glasses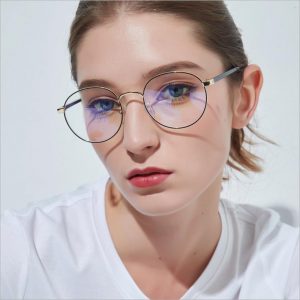 The 90's fashion eyewear is still popular. Thin metal glasses are sleek and light and accentuates your minimalist look. Thin metal frames give you a perfect sculpted look. If you are looking for durable glasses, straight away pick the metal ones.
Cat- eyeglasses
This retro design is regaining its popularity. If you are a person who loves to carry a vintage look in the modern time then cat eyeglasses should be your preference. These frames are an anytime anywhere accessory to consign a distinct look.
Cat-eye glasses are little tricky, read below to choose the right type of frame:
Round face: Pick angular cat-eye frames to complement your features
Oval face: the shape of the frame isn't a big deal but choose the right shade.
Square face: go for rounded cat-eye frames to compliment your sharp features.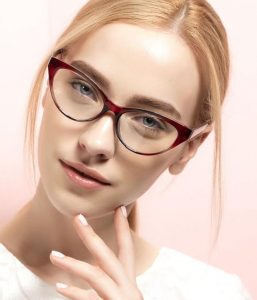 Tip:
Black cat eyeglasses always top the list
Tortoise embellishments are hitting the trend, so try them.
After all, your glasses are going to be with you all day. So choose the right frame and color to express your personality and fashion sense rightly.