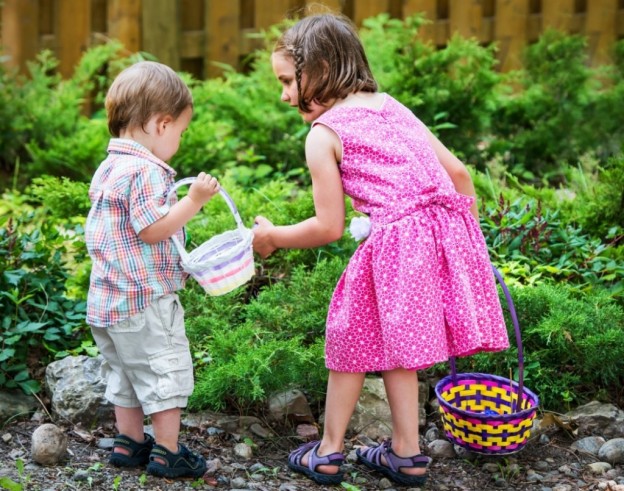 No Easter holiday is complete without an Easter Egg Hunt. This is not only an exciting event for the kids. But it also helps the adults loosen up and remember their childhood. So when you plan Easter parties never forget to include the main event that is the Easter egg hunt.
Here are 10 steps to make sure that your egg hunt is a smashing success:
1. Set the date and time
It is after all the Easter Holidays and everyone will have plans. Just make sure you do not set the party at a time when all are busy out travelling or at Church. Set a date and time which is convenient for all to attend and have fun.
It might be a good idea to set the time to post lunch, because that's when all would be relaxed, after attending mass at the Church.
2. Egg hunters ages
It is important to know the ages of the egg hunters so that you can decide on the surprises you want placed inside them. Egg hunting is enjoyed by people of all ages. So you can categorize the ages in categories that consist of 2-5years; 6-12 years; 13-18 years and 18 years onwards.
For smaller kids you can place these eggs where they can easily spot them and in their reach.
For older kids you can consider higher places to hide the eggs. As for the adults, it makes things more fun if you hide them in obscure and high places.
3. Venue
Easter egg hunts are a lot more fun when they are played outdoors. But just keep a backup plan to hide the eggs indoor incase the weather causes any disruption to your existing plans.
4. Get help
It might be a good idea to get help from close family, friends or even neighbors. It is another season to be merry, so I'm sure they would love to pitch in and enjoy the holidays together.
You will have a lot of things to do, so you can delegate some of the work to them.
5. Set boundaries
When there is an egg hunt it is always best to set the boundaries. For example if you are hosting the egg hunt in your backyard, set the boundary of the hunt till the picket fence or till a particular wall.
This helps in keeping the crowd in the designated hunt area and also keeps the kids out of unwanted trouble.
6. Color code
To make things easier for you, you can color code the eggs of the different age group of hunters.
7. Hiding places
Make a list of all the possible hiding places so that it can be easy for you when you actually get down to doing it.
8. Fill up the eggs
Everyone loves gifts and surprises. Fill up the plastic eggs of children with candy, stickers, play dough or other small knick knacks. For adults you could fill them up with nice chocolates or even movie tickets.
9. Safety in hiding eggs
Make sure you hide the eggs in safe places so that the kids involved do not get into any harm or dangers.
Simply follow these guidelines:
Do not hide eggs near electrical outlets or plugs.
Do not hide them in animal's homes.
Do not hide eggs near thorny bushes or plants, or even slightly poisonous plants.
Do not hide eggs near fragile items like glass.
10. Prizes
Easter egg hunting is a lot of fun, especially with all the prizes and surprises involved. Do not make it a competition. Make sure everyone has fun. DO not make it a game where only the person who has collected the maximum eggs wins.
Here are some pointers that will help in coming up with special egg hunt prizes.
Give a prize even to the person who has collected the least number of eggs as a 'hard luck' prize.
Hide jeweled eggs that contain special royalty prizes like trinkets and other jewels.
You can even announce prizes for those who manage to find the eggs in the hardest to find places.
At the end of the day an Easter egg hunt is all about the fun kids have in finding the eggs.
Keep it simple and safe!
Zubina
Zubina is someone who believes in "women supporting women" and women empowerment is her ultimate motto. She holds a master's degree in public health and has a firm belief that mental health is as important as physical health. She loves playing with words, therefore she started her career as a writer who comes up with blogs that can help other women who are suffering physically and mentally. Ashley loves learning about several different health issues, hence you can find solutions for almost all the problems in her blogs. Have a look at her blogs and you will love them for sure!
Related posts